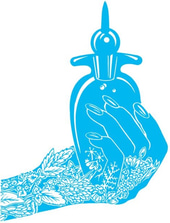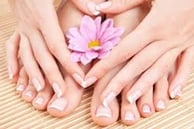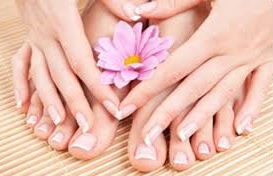 Manicure
Whether your nails are in good shape or bad shape a professional manicure will make them look their best. Includes shaping of nails, tidying of cuticles & massage
£20.00 with oil & buffing
£23.00 with varnish
Paraffin Wax Manicure
As above, with the added benefit of warm luxurious paraffin wax, it is a form of heat therapy which increases blood flow and relaxes muscles. Paraffin is applied to the hands, which are then wrapped, allowing the heat to be absorbed by the skin. This increases blood circulation and traps moisture, resulting in rejuvenation and nourishment for the skin, easing aches & pains & re-hydrating dry cracked hands & nails.
£27.00
£30.00 with varnish
Luxury Spa Manicure
The nails are shaped, hands are exfoliated & submerged in a refreshing soak, cuticles are tided. A nourishing hand mask is applied & topped with thermal mittens for a real luxury. The hands and forearms are massaged with a delicious balm.
£27.00
£30.00 with varnish

Pedicure
A thorough treatment, soaking of feet, nail & cuticle work, removal of hard skin, massage & varnish.
If your not having varnish the massage will be extended. Your will feel like you are walking on air.
£30.00
Luxury Spa Pedicure
All feet deserve a treat, this tranquil pedicure leaves feet smooth and immaculately presented. Your feet will be cleansed, exfoliated & soaked. Nails are shaped & cuticles tidied, then a softening foot mask is topped with heated booties. A relaxing foot massage follows.... 'sole delight'
£34.00
£37.00 with varnish
Callus Peel for Beautiful Heels
Ideal for diabetics and those whose feet need special attention. This special Callus Peel product will leave your feet soft and feeling rejuvenated.
A skin softening patch is applied, then wrapped in film and left for 10 - 15 minutes. Filing, nail preparation, moisturising cream and polish are included in the treatment.
£40.00
Please bring appropriate footwear to wear home if having varnish